Pipeline Inspection
Doetsch Environmental Services offers a variety of services when it comes to pipeline inspection to ensure that we can provide you with the ability to inspect anything as small as 1" to as large as 144".
Whether you need a house lead lateral launched, a 360° view of a 24" sewer or some sonar work completed, Doetsch Environmental Services' has the fleet of inspection units that you need.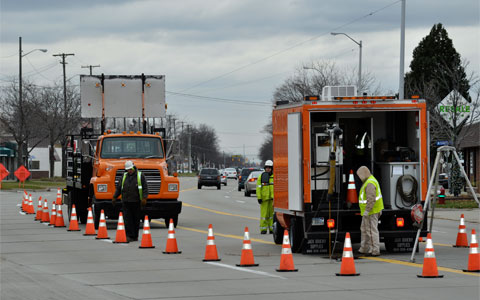 Panoramo 360° optical scanning is the newest addition to the Doetsch Fleet.  This technology takes nearly simultaneous forward and rearward digital photos at predetermined intervals and then links these photos through proprietary software and hardware systems.
This results in an uninterrupted 360° view of the pipe for the entire length of the inspection.  This type of inspection allows you to review the entire pipe segment without the worry of something being overlooked in the initial scanning stages.  In addition to being able to view the entire pipe, defects can be measured and viewed from any angle within the pipe.
Our CCTV video inspection units have the ability to inspect lines as small as 6" and as large as 144".  For the smaller sized pipe, a motorized tractor will move the camera throughout the sewer system.  For larger pipes where light may become an issue, a walking camera will be utilized to make sure you receive the proper picture that you are looking for.
Lateral Inspection offers you the ability to view service leads that are flowing into the main sewer from the main sewer its' self.  This is done by deploying a smaller camera from the main line unit into the service lead.
If the service lead is not accessible from the main sewer for any reason, Doetsch Environmental Services does have a supply of push cameras capable of viewing lines anywhere from 1" to 6".  In addition to the line sizes, Doetsch Environmental Services can video tape a joint for a complete 360° with our twin view camera.  This enables the viewer the ability to dissect the integrity of the smallest lines whether it is a utility line, roof conductor or a sewer line.
For those high flowing systems, Doetsch Environmental Services offers our customers the ability to CCTV inspect above the water line while simultaneously providing sonar below the water line.  This dual process will allow you to view your system in a complete satisfactory picture.
Hard to reach areas are no match for Doetsch Environmental Services.  We have built two dedicated off-road inspection units for just those occasions.  These vehicles are capable of traversing the 'backwoods' terrain that conventional vehicles are unable to navigate, ensuring that no sewer goes unseen!
Cleaning 8" pipe with Enz nozzle.